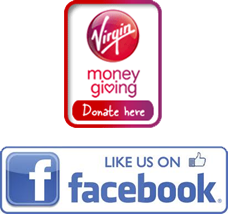 Welcome to the Swaffham & Litcham Home Hospice web site
Please spend some time browsing our site and learn about
who we are and what we do.
Swaffham & Litcham Home Hospice supports over 60 patients each month who live with life-limiting or terminal illnesses. The Home Hospice provides support and reassurance for patients and their families, working closely with partners in the NHS.

Services are free and available to patients in Swaffham & Litcham and the surrounding areas. This comprehensive service is provided by seven part time staff and over sixty volunteers, all of whom are regularly provided with high quality training to complement their existing skills. Services include Home Visits, a Day Care group, Bereavement and Carers' Support, Help with Transport, an Art and Craft group, Equipment Loan, Headstart and complementary therapies such as Reflexology and Reiki.
During 2013, our Silver Jubilee year, the Home Hospice hosted a number of special events and activities. Our aim was to raise £25,000 and we would like to thank and congratulate everyone who took part in trying to help us to achieve this. Together we raised the magnificent sum of £34,000! This will help to enable us to continue providing our much needed services free of charge.

We would also like to thank all those who ran their own fundraising events. We really appreciate all the hard work and organisation involved. See our Thank You Certificates for 2013 here, and for here for 2014.
We already have a full programme of fundraising events for 2014 , so please put these dates in your diary.
Click here or on the event for details.

Please support II (Army Cooperation) Squadron's Charity Event click here for details
What do you do with the odd pennies in your change? Pop them into the collecting box in Papworth's Butchers of course! Thank you to all customers who did this.
Have a garden you are proud of? The people of Little Dunham certainly do.
Thank you to them for opening their gardens to the public.
What do you do with an empty whisky bottle?
You fill it up with coins of course!
Thank you to Joy Button for doing this.
click on certificate for larger image
click on certificate for larger image
click on certificate for larger image
Thank you for looking at our website. If you have any comments or queries please do not hesitate to contact us